Hello All!
I wrote this a three years ago with the knowledge that it may have been my Mom's last Christmas. As many of you know, it was. She passed away on Christmas Eve 2014. Since then I have known friends who have also lost parents or children. It is never easy dealing with the loss of a loved one but particularly during the holiday season. Then of course there are those who may have lost jobs or experienced any number of other life altering tragedies in the last year. Many times future holidays feel like salt on the wound of the loss that was experienced.
Loss doesn't always come in the form of loosing something or someone. At
times it may be stressful family dynamics that seem to put a damper on the holiday season almost annually for some. There are many reasons to need reminding of the hope that is within us as believers or the hope that is available for unbelievers. It is for this reason that I want to re-share this post.
This is not intended to be a triumphalistic, everything is roses with Christ in your life, thought process. However, when all hope seems lost, or you just don't know where else to go or what else to do, the only sure hope we have to cling to is Christ. In fact, sometimes we know this truth in our heads, and even in our heart of hearts, but the light is still difficult to see.
That is the purpose of this post. To hopefully, shine the light a little brighter on "The Light of the World" so that those who are struggling with darkness can perhaps grasp hope a little more easily this holiday season.
As many of you know, I work in a hospital emergency room. This time of year it can be a very sad place to be. At times, it has been very difficult for me. Every year there are sad stories. This year has been no different. Life does not care that it is the holiday season. Time moves on and personal tragedy as well as large scale tragedies continue.
Considering the continuing drama and terror domestically and abroad, as well as the usual insanity of the retail aspects of the holiday season, it can be easy to loose sight of what we are celebrating or why we should celebrate it. It can be difficult to even find a reason to hope at all.
This time of year it is often believed and reported that suicides go up due to holiday depression and despair. According to the CDC and Healthline.com this is actually inaccurate. According to these two sources, December really has one of the lower percentages of suicide however, there is actually an increase after the holiday season.
Depression comes in varying degrees and lasts for different lengths of time but once it becomes despair, a person is in real spiritual, emotional, and physical danger. Despair robs people not only of joy and hope, but reason. They begin struggling to think straight. Their emotions run a muck. If they are unbelievers, they have no source of hope outside of themselves. If they are believers, then they tend to forget who their source of hope is. That is why suicide happens among Christians and non-Christians. Despair is no respecter of persons. The longer it lasts, the greater the danger.
The last year has seen so much tragedy all over in the form of accidents, murder, and just plain illness that people succumb to. If the stats are right, then it must not be that it is happening so much more. Rather, it must seem more severe because all death and loss seems more tragic during the holiday season. It may not be reasonable, but many feel that way and many years, I have too
.
The year we lost Mom, I felt it particularly strongly and as I approach the fourth Christmas without my Mom, I know I have to be prepared to feel it some this year as well. For most, the holidays are never the same after they loose someone. That can be particularly true for the very first set of holidays.
So where do we find joy? In this world filled with tragedy and this season filled with loss, how are we to keep hope alive? There is but one answer.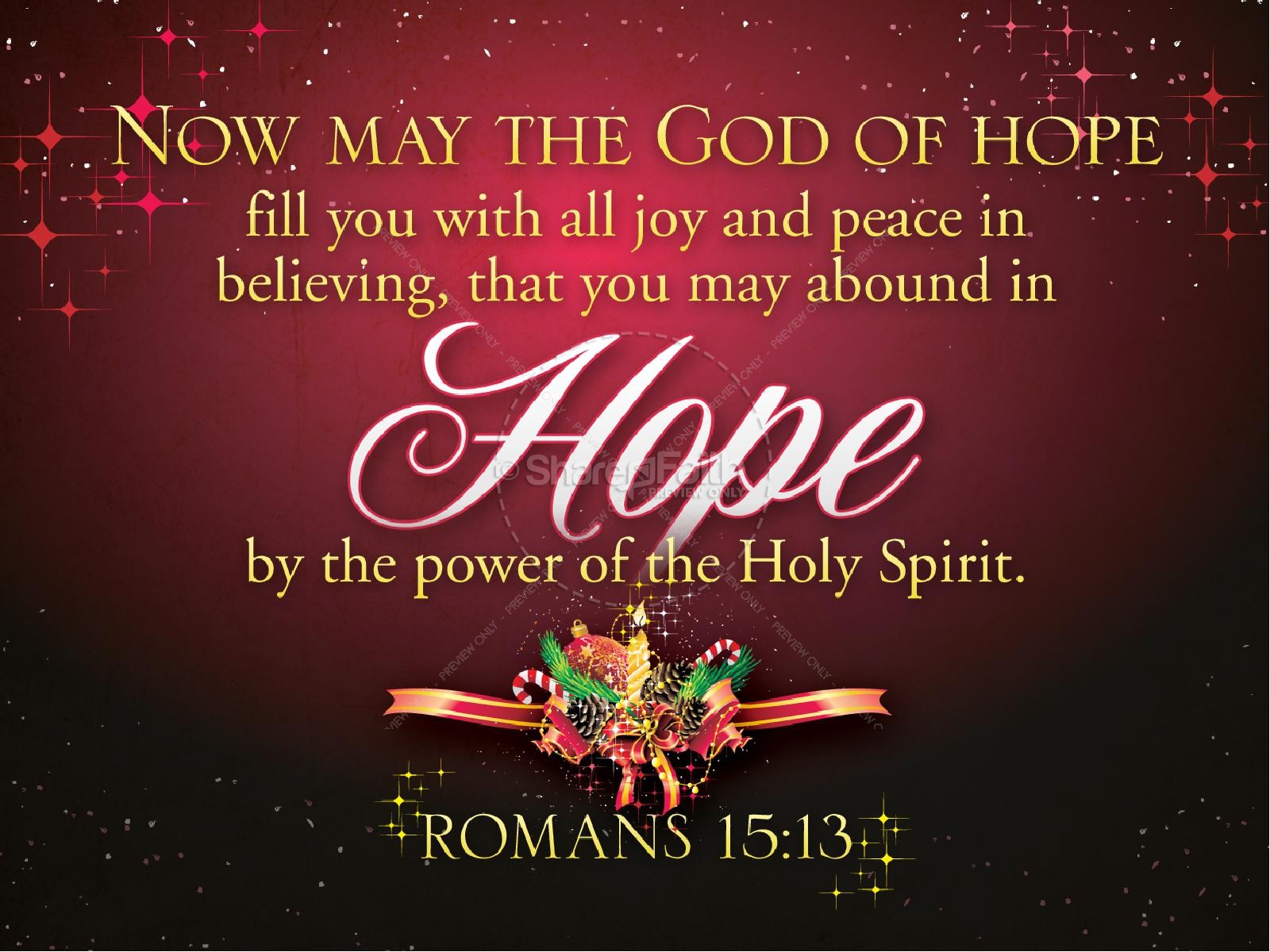 This may sound cliche, but it is no less true. The reason for the season is the reason for our hope. Jesus is the source of hope. But he cannot simply be a fleeting idea or whim that people latch on to this time of year.. Nor is he a name that we call upon merely when we are in want or need. Colossians 1:27 says that the mystery of the gospel is "Christ in you, the hope of glory". Jesus must be on the inside, birthing hope in our hearts.
Even then, it is not enough to simply believe. Christianity is a relationship with a living Savior. The only way to build that relationship and create a solid foundation that will carry you through the darkest nights is through study of the word and prayer.
Faith and hope run hand in hand and
"faith comes by hearing, and hearing by the word of God"
(Romans 10:17)
.
This is not a reference to soul saving faith only, though it certainly should include that. This is a reference to enduring faith. Faith which, after walking with us through the valley of the shadow of death, carries us out of those shadows and valleys to soar on the wings of eagles, taking us to mountaintops. However, this happens much more easily when we spend the mountaintop moments reinforcing the foundation so that it is firm through the times in the valley.
This is why I write and preachers preach so much about application of the word in faithful living. It is not because these are commands of some tyrant who will destroy you if you don't follow them. It is because these are the words of a loving Savior, who was also a suffering servant "who gave His life as a ransom for many"(Matthew 20:28). It is in these words that our understanding of who God is, is found. It is in these words that hope is found. And, it is in prayer and communion with this loving Father and Suffering Savior that relationship is built.

That relationship is where our hearts are made glad. An intimate understanding of the gospel of Jesus Christ brings the knowledge that, as true believers, there is coming a day when we will spend eternity with the Prince of Peace. There is coming a day when all fear, sorrow, pain, and suffering will cease.(Revelation 21:4)
As believers we know that we have been born again to a living hope. We know that we have an inheritance that is imperishable, undefiled, and unfading. We know that this inheritance is guaranteed, and kept in heaven for us through the power of Christ's resurrection. Even without seeing Christ face to face, we are blessed with a faith and knowledge of Him and His Gospel which produces in us joy unspeakable and full of glory.(1 Peter 1:3-9)
This holiday season should and can produce such joy and gladness, even in spite of trials and tribulations we may be going through. As we consider the celebration of the coming of our Savior, let us share this joy and gladness with others. Let us spread the Good News of Christ's love. In so doing, we not only have the opportunity to present the hope filled news of the Gospel to a lost and dying world, but we remind fellow believers and ourselves of that same Good News.
The Reason for the Season
Christ was preordained before the dawning of time to come and be born in a manger in Bethlehem. He was predetermined to live the perfect life that we could never live in order to become the perfect, spotless lamb that could be sacrificed for our sins. He was predestined to be crucified on our behalf, becoming the propitiation that would satisfy the wrath of Holy God toward our sinful rebellion.
THEN HE ROSE. By the power of the Holy Spirit He came OUT and demonstrated the conquering power that He has over death and the grave. After a little more ministry to His disciples, He ascended to the right hand of the Father where He prays for us continually.
This is the basis for our hope. Our future hope is found in the knowledge that HE WILL COME AGAIN!!!!!
If you are not a believer know this, You can have this hope. You can have this relationship. Surrender your heart to Jesus and place your hope and trust in His finished work on the cross. You can know joy that transcends any suffering. Joy that carries you through the storm.
If you are a believer, never forget this:
We do not loose heart. Though our outer self is wasting away, our inner self is being renewed day by day. For this light and momentary affliction is preparing for us an eternal weight of glory beyond all comparison, as we look not to the things that are seen, but to the things that are unseen. For the things that are seen are transient, but the things that are unseen are eternal.(2 Corinthians 4:16-18)
In this holiday season, I rest in the joy that I do not have to succumb to despair and sadness. Because, in Jesus, I can experience tremendous joy and gladness.
May it be so for you in Jesus Name.
MERRY CHRISTMAS!!!!!