Your back! That's wonderful! There are few sweeter joys than a renewed marriage. Sometimes that happens all at once. Sometimes, one spouse has to take the lead. While sometimes the wife must be that spouse that temporarily leads, scripture puts complete responsibility for leadership and shepherding of the family on the husband.
That's right men. Christ set the example for how we are to love and lead our wives.
Check out Ephesians 5:25-27. "Husbands, love your wives, just as Christ loved the church and gave himself up for her to make her holy, cleansing her by the washing with water through the word, and to present her to himself as a radiant church, without stain or wrinkle or any other blemish, but holy and blameless."
Notice it does not say, be an overbearing brute, commanding obedience, and verbally, if not physically or emotionally abusing her.
NO! That man needs a gang of godly men to come over to his house and kick his butt quite frankly. No really, that kind of man does need to be held accountable via methods of church discipline if he will not receive the wise council of patient and loving, yet firm in the faith, men of God.
Remember men, if you abuse your wife verbally, physically, or emotionally, especially if she is a believer, you are abusing a member of Christ's church and he will not take kindly to it.
Harsh Honesty Will Crush Your Wife's Heart!
Colossians 3:19 states, "Husbands love your wives and do not be harsh with them." Being harsh doesn't happen only in tone. There are many thoughts that you have which may represent feelings that seem very real. These should never be shared with your wife.
If you are not sure of your feelings toward your wife or you are battling with attractions to other women, etc. these are things that should be hashed out with another trusted brother in the Lord through the word of God.
If your feelings don't mesh with the word of God, then they are likely sinful, to be taken captive and handed to God to be disposed of. That is true for all of Christian life. Just because it feels right does not mean it is right.
Gentlemen. We need to man up! We need to stop whining and moaning about every little perceived problem we have, that simply must be all our wives fault. Even if we are only complaining to ourselves.
As I said in the first post, I am married and I love my wife very much. She is my best friend however, my marriage is not perfect.
For a long time my wife and I fought over lots of things. Some were important. Some were not. The problem is that I was allowing myself to become bitter about the the important, topics that really did matter. I was constantly angry with my wife, sometimes subconsciously, so that it fed the stupid fights, without me realizing it until it was too late. Worse yet, I gave myself permission to tear her down verbally as if it was my job to change what I did not like. Meanwhile, completely missing the acts of sin I was committing against her and God by not being loving, patient, kind and most importantly forgiving in the way I handled my issues with her.
Remember, "love keeps no record of wrong"(1 Corinthians 13). I was failing miserably at this. I had placed zero trust for the unity of my wife and I in the sovereign hands of my Savior. I acted as if I was totally in control.
Gratefully, God broke me, shined a light on my own heart and showed me where I was wrong. He taught me to recognize His grace in MY life and to pray for more of His grace in hers. We need to recognize that the battle is bigger than us or our wives, take authority in Christ, and pray. We are practically handing our marriages over without a fight because we do not recognize the spiritual battle and we do not know how to use the weapons that have been given to us.
Marriage is Spiritual Warfare!
Prayer is a powerful weapon that we as husbands do not wield enough. We must realize that we need to be at war with Satan's attacks on our marriage every day.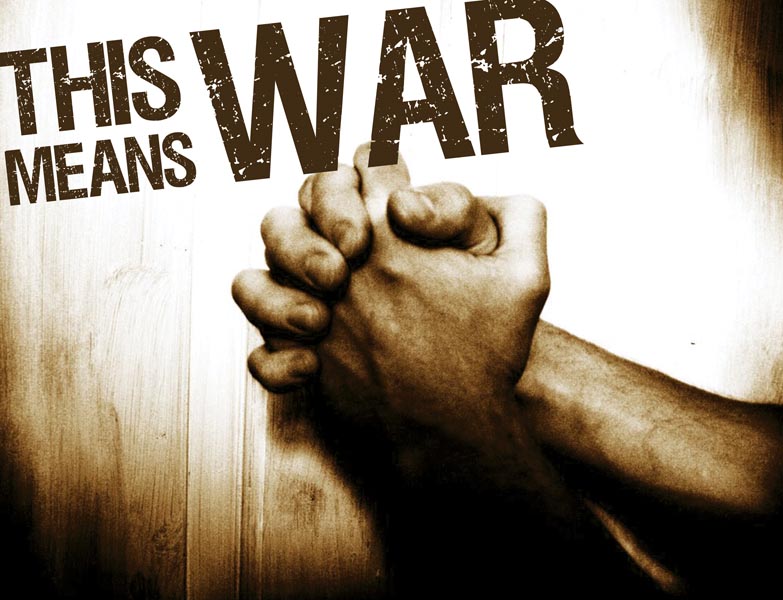 2 Corinthians 10:3-5 states, "For though we live in the world, we do not wage war as the world does. The weapons we fight with are not the weapons of the world. On the contrary, they have divine power to demolish strongholds. We demolish arguments and every pretension that sets itself up against the knowledge of God, and we take captive every thought to make it obedient to Christ."
This is huge! If we would simply recognize that many of the ridiculous fights we have with our wives are actually fueled by sin and selfishness, not Christ and righteousness, we would save ourselves and our wives a lot of pain and sorrow.
Ephesians 6:10-18 lists the Armor of God that is made available to us to stand against the devil's schemes. The belt of truth, the breastplate of righteousness, the gospel of peace, the shield of faith, the helmet of salvation, and the sword of the spirit. All of this under-girded by prayer. So here's the thing about prayer:
In 1 Peter 7, Peter warns husbands, "Husbands, in the same way be considerate as you live with your wives, and treat them with respect as the weaker partner and as heirs with you of the gracious gift of life, so that nothing will hinder your prayers."
How about that? If you mistreat your wives it will hinder your prayers, which will impact every other weapon available to you.
Conversely , if you aren't applying the weapons of holy living, studying the word, knowing and sharing the gospel, building up your faith in these and praying, then you will most likely mistreat your wife because you will be focused on you rather than Jesus.
Humility is key to being a successful leader. Unfortunately, sometimes the last place we strive for humility is in our marriages and with our children.
As mentioned above, you must remember the gospel. In order to remain humble, you must remember what you were like before you were born again. Before God's grace empowered gospel obedience. When you recognize this, it will create a gratitude in your heart for what Christ has done and a compassion for those who have not yet experienced that.
Christ does not want us to revel in our grace given successes. He wants us to be continually driven to the cross. He wants us to see the flaws of others, most especially our wives, as those things in which they need God to help them overcome, just as we need him to continually help us overcome.
He wants us to serve them by loving them through the challenges and praying compassionately for them to experience victory. When you are praying continually for people's spiritual success, it is difficult to remain unloving.
Christ loved the church by giving himself up for her. He died to himself. He humbled himself, becoming nothing, that his church would be made clean. And how is the church made clean? By the washing of the word. Not, the force feeding of the word.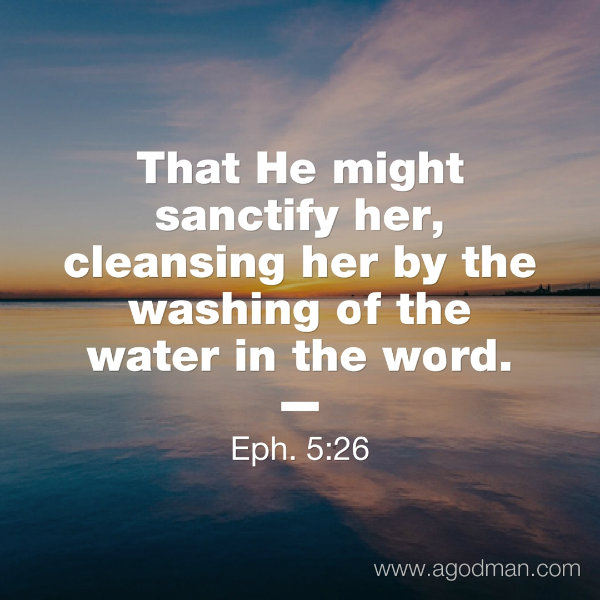 If husbands would strive to spend real time cultivating an appreciation and application of God's word in the home daily rather than considering their duties done on Sunday morning this would fix many problems.
Proverbs 31:10-12 says, "A wife of noble character who can find? She is worth far more than rubies. Her husband has full confidence in her and lacks nothing of value. She brings him good, not harm, all the days of her life."
Chapter 31 ends stating in verse 28, "her children arise and call her blessed; her husband also, and he praises her."
verse 31 says, "Give her the reward she has earned and let her works bring her praise at the city gate."
Be sure of it gentlemen, Ephesians makes it clear that we as husbands are responsible for seeing to it that our wives are able to become everything that this passage in Proverbs 31:10-31 says she can and should be.
If we show that we find her valuable and encourage our children to do the same by praising her, blessing her, loving her, praying for her, and washing her with the water of the word,
Lead Lovingly, Gently, Carefully, Patiently, Faithfully and Prayerfully
Finally and repetitiously, die to yourself and live for Jesus. Lead your family. Wash your wife and your children with the water of the word.
Do it lovingly and gently just as Christ has done for you or they will likely not respond positively to you.
Do it carefully as you are capable of building up their hearts....or breaking them.
Do it patiently, faithfully, and prayerfully. Remember, only God can change their hearts, by the power of the Holy Spirit, as I pray he has yours.
You are the shepherd of their hearts and souls. A good shepherd leads and protects his sheep. Be diligent in your responsibilities, applying the fruit of the Spirit, and trust Jesus(Galatians 5:22-23).
Jesus, the chief shepherd has taken over 2,000 years to get His church ready and He is not done yet because we are still here. If he is patiently shepherding us that way, then we must apply that same patience in shepherding our own families. We will give an account for the way we lead them. If we do our part and trust God to do His, then by His grace, the account will be a good one.
May it be so in Jesus name,
Amen